Celebrate The Veterans Of Escondido!
Escondido VetFest – put on by American Legion JB Clark Post 149 – is looking forward to the fourth VetFest Parade and Festival to be held November 11, 2023. Our inaugural VetFest was exciting and we hope to build on this year's excitement with a bigger parade and larger festival. If you would like to be a part of this great event, please fill out a participant application, or fill out a volunteer application to help, or be a sponsor.
We would like to thank our 2022 Title Sponsors – Palomar Health Medical Group, Palomar Health Foundation, and the Rincon Tribe. Without your their generosity, we would not be able to make Escondido's VetFest a success! See our 2019 Sponsors, 2021 Sponsors and 2022 Sponsors.
We can only honor our local veterans with your help. Whether you want to have an entry in the parade, decorate your store front for the contest, volunteer, sponsor, or all of the above, you need to start here and sign up for the appropriate activity.
VetFest 'has been cemented' say organizers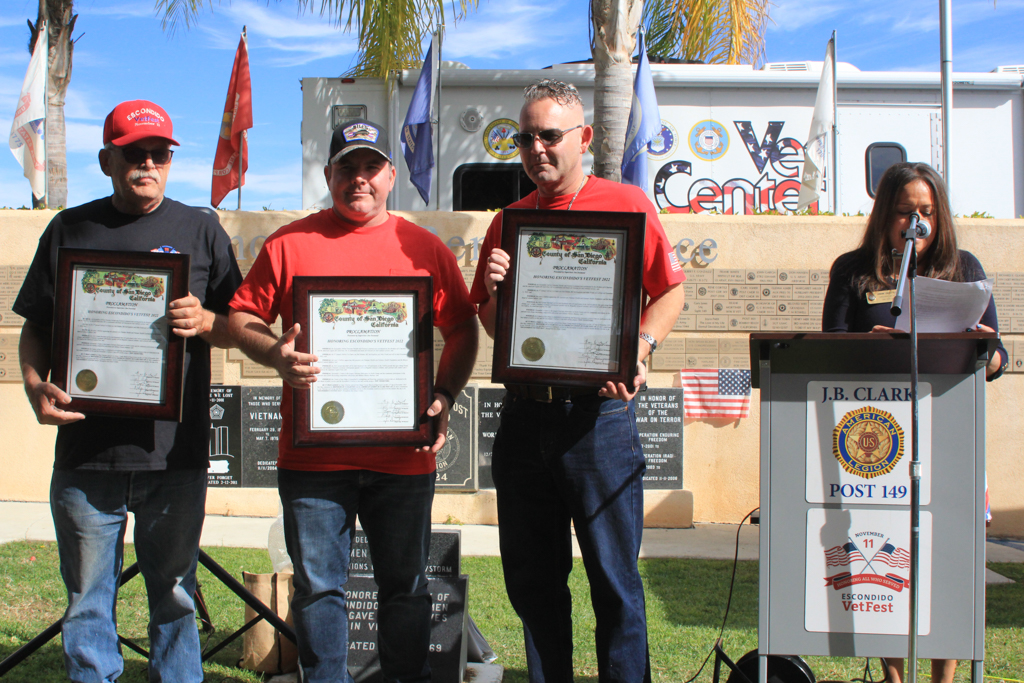 Friday, November 11's 3rd annual VetFest had more parade participants and more people along the Grand Avenue parade route than last year. It also welcomed about 400 at the American Legion Post 149 .
"The success of VetFest has cemented and it will continue for many many years to come," said Co-chairman Stef Holden.
There were 50 entries from 50 different organizations. "People are already signing up for next year," said Holden. 
Besides the parade was the Veterans Day observance at Post 140. Jen Holden, commander, welcomed the visits. The posting of the colors was led by the Escondido Fire & Police Department Honor Guard and Frank Meagan sang the National Anthem.